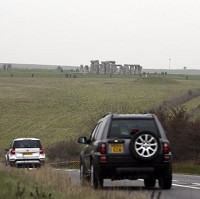 The Lake District tops a new chart of British parents' favourite UK destinations reachable by car.
More families want to set their journey planner to the Cumbrian beauty spot than anywhere else, the survey suggests.
Over six in 10 parents call the area, which comprises quaint towns such as Keswick and Kendal, a "must-see" experience.
Second place in the Freedomtogo.co.uk poll goes to Stonehenge, where a new tunnel is being planned to ease traffic flow around the area .
Despite its desirability, the Lakes' delights remain an unseen treasure for a large majority of Britons, with 59% admitting to having never been.
The caravanning and camping website placed Cornwall third in its "must-see" destination table. Cornwall is the destination most visited by parents and their children, with half of them having experienced the South-West county.
This is followed by Brighton Pier and North Yorkshire's Moors with 49% and 43% respectively.
Parents who spurn foreign resorts in favour of UK holidays do so mainly because of the country's natural beauty (63%). Family activities (39%) and the beach (43%) are also primary considerations.
Four out of five parents think leisure vehicle breaks are fun and value for money as a way of exploring Britain. An even higher proportion (85%) like the adaptability that motorhomes, caravans or campervans bring to their holidays.
The West and East Midlands seem sadly neglected as tourist destinations, as four in 10 families said they have not been and have no intention of so doing.
More than three out of 10 families want to visit South-East England, but not necessarily taking in London, the study also finds. In fact, London is not on the wishlist of 18% of Britons polled, while 39% of them have never been there.
Three-quarters of parents are concerned that their children's social media obsession is keeping them from the great outdoors, the survey also shows.
The Caravan Club and The Camping and Caravanning Club-backed, NCC (National Caravan Council) campaign questioned parents who have children 15 years old or under.
Copyright Press Association 2015