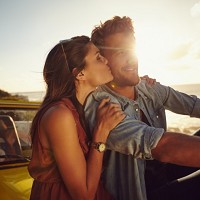 Having a clean car and resisting the urge to yell at other motorists could help win over a new date's heart, the results of a new survey suggest.
Getting on for half those questioned by the Institute of Advanced Motorists (IAM) say signs of road rage would be a definite turn-off on a first date.
Similar proportions say they wouldn't be impressed if their new date texted or chatted on their mobile while driving, with one in four saying they'd also be put off by a dirty car.
Struggling to find or manoeuvre into a parking space, meanwhile, would put off one in 10 on a first date, while around 14% say they'd find an overly cautious driver off-putting.
But it seems getting things right when it comes to motoring can also improve people's chances of progressing to a second date.
One in 10 say they'd be impressed if their date had good driving skills, with 7% indicating that they could be won over by a "nice" vehicle.
Sarah Sillars, chief executive at the Institute, says the survey shows that bad driving habits can damage motorists' chances of romance as well as put other road users in danger.
Copyright Press Association 2015