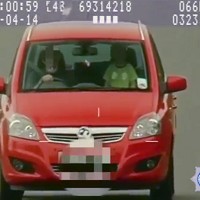 A motorist has received a six-month driving ban for speeding at 70 mph with an unsecured child standing or kneeling in the front passenger seat.
Northallerton Magistrates' Court heard that 66-year-old John Naisbitt was also lighting a cigarette at the wheel as he drove past a North Yorkshire Police camera at Menwith Hill.
Naisbitt, who comes from Hetton-le-Hole in County Durham, was fined £115 and given three penalty points after admitting to speeding and carrying a passenger in a manner likely to cause danger.
Dave Brown, Mobile safety camera manager, said: "I hope the outcome of this case serves as a wake-up call to anyone who disregards the importance of keeping safe on the roads."
The camera footage shows a boy in a yellow T-shirt sitting, kneeling or standing with no seatbelt on in the passenger seat of Naisbitt's car, as he drove at 70 mph in a zone with a 60 mph limit.
Mr Brown added: "Mr Naisbitt should consider himself lucky not to be facing more serious charges. His disregard for the safety of his young passenger could have ended in tragedy."
A video of the incident has been released by the North Yorkshire Police on YouTube.
Copyright Press Association 2014