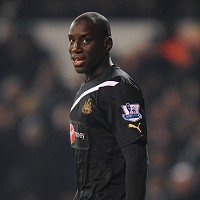 Newcastle United footballer Demba Ba has been handed a six-month driving ban after he was caught speeding on two separate occasions.
The 27-year-old failed to provide details to police of who was driving his car when it was twice caught speeding, officials at South East Northumberland Magistrates' Court said.
The Senegal international had missed two previous hearings and the sentencing without offering a reason, although the fines issued by the court and increasedcar insurance premiums are unlikely to dent Ba's earnings.
Ba had originally been written to by Northumbria Police in November last year when they asked him who was driving his car when caught speeding. He missed a December 13 deadline to reply and was charged with failing to supply driver information.
The striker was originally handed six penalty points and ordered to pay a £1,000 fine, £85 costs and a £15 victim surcharge. However, it then became clear he already had six points on his licence and the case was reopened.
He was then asked to attend court on August 1, but again failed to turn up. Ba was banned from driving for six months on August 30 and the court re-imposed the initial penalty, fine and costs.
Copyright Press Association 2012