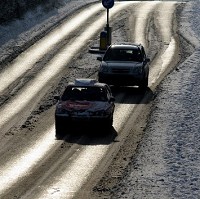 Guidance has been issued after snowy conditions returned to much of the UK.
Freezing conditions are expected to continue for the rest of the week, prompting the Institute of Advanced Motorists (IAM) to offer advice to motorists in the hope of reducing the amount of accidents and breakdowns .
IAM chief examiner Peter Rodger said: "Avoid travelling unless completely necessary, and don't ignore police warnings or advice to avoid specific routes. Can you work remotely, or change your schedule?"
For those that have to drive, the IAM offered the following tips:
:: Ensure your windows are clean and clear, and that you have all-round visibility before you set off. Also take the time to clear snow off the roof of your car.
:: When driving in snow, get your speed right - not too fast that you risk losing control, but not so slow that you risk losing momentum when it is needed
:: Start from a stationary position gently and avoid high revs.
:: If the car goes into a skid, take your foot off the pedals and steer.
:: Stopping distances should be doubled or even tripled.
:: Use busier roads where possible as these are more likely to have been gritted.
:: When going downhill, slow down before you descend and do not let speed build up.
Copyright Press Association 2013