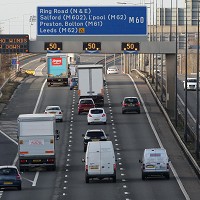 A road safety charity has issued some practical advice for driving in windy weather.
As the winter weather sets in, chief examiner at the Institute of Advanced Motorists Peter Rodger stressed the importance of planning ahead.
He suggested choosing a sheltered route if there is one available, considering which routes may have less exposure to the weather and a lower risk of fallen trees.
Remember winds are not constant, so grip the steering wheel firmly so be prepared for gusts, particularly when passing high-side vehicles.
Similarly, it is important to give cyclists, motorcyclists, lorries and buses more room than usual during high winds.
Mr Rodgers reminded drivers that keeping an eye on roadside trees and bushes can be a good way of deducing how strong winds are and motorists should be sure to keep their eye on the road ahead.
Gusts of wind getting under a vehicle can reduce its handling and braking ability.
They are also warned to be wary of debris and to reduce speeds in case of blockages ahead.
Mr Rodger said: "I have seen a parked car moved by the wind.
"Don't underestimate how powerful it is and how it can affect you whilst in the car."
Just case there is an accident, it is also vital to make sure you have adequate car insurance .
Copyright Press Association 2013