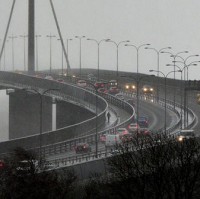 Motorists are being warned by the Met Office to be prepared for a continuation of the gales that have been battering Britain.
Following an anticipated lull on Monday afternoon the winds were set to pick up again with drivers in the north west of England warned to expect gusts of up to 60mph today (Tuesday November 10).
Met Office forecaster Jenna Macgregor says although the strongest gusts are likely to be isolated ones they can still cause disruption on the roads for drivers.
RAC spokesman Simon Williams said: "Given the unusually mild temperatures for November, it is not icy roads but high winds that motorists are having to contend with in several parts of the UK.
" Plan your journey before setting out and give yourself more time to get to your destination - strong winds can affect a vehicle's handling capabilities significantly, so it's important to slow down especially on more exposed routes.
"It is a good idea to maintain a greater distance between yourself and the vehicle in front as this will give you more time to respond should other vehicles get into difficulties.
"Also, take particular care when passing other vehicles, especially high-sided lorries that can channel strong gusts towards your car once you've overtaken.
"And be mindful of how you load your own vehicle - a roofbox can make you more prone to catching cross-winds as you drive, so only leave one attached to your vehicle if you're using it."
The Met Office says the gales have been caused by areas of low pressure moving across the UK and warns that the public should be aware of the risks.
Warm air blowing into Britain from the Atlantic is expected to bring further rainfall and forecasters say that - on top of the downpours experienced over the last couple of days - could result in surface flooding on roads in some parts. Drivers are likely to experience calmer conditions on Wednesday, the Met Office says.
Copyright Press Association 2015