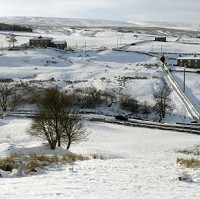 Drivers have been warned to expect likely road disruption with heavy snow predicted for large parts of the UK in the next 24 hours.
Northern Ireland and Scotland look set to bear the brunt of the bad weather with forecasters anticipating snowfalls of between five and 10cm overnight into Thursday.
Temperatures are expected to plummet by up to 10C to freezing levels, while t he Met Office has issued a yellow weather alert warning from midday on Wednesday, for people across much of England to "be aware".
The warning is valid from East Anglia to north-western parts of England. Motorists in northern England can expect between three and 8cm of snow, possibly stretching to as far to the Midlands, the Humber and Yorkshire.
RAC spokesman Simon Williams said: "This winter's yo-yo style weather continues - relatively mild, wet and blustery one week, cold with snow and ice for some the next. The message to drivers is to plan ahead - perform some quick and easy checks on the condition of your vehicle, such as tyres and windscreen wipers, as soon as possible. Then when out on the road be on your guard, responding to the rapidly changing conditions and adjusting your driving style as necessary."
"However many motorists may not get going in the first place - certainly with temperatures expected to drop significantly in the next 24 hours, we're going to see more batteries failing. Our advice is to switch off or disconnect everything that places demand on the battery when leaving the car - this includes iPods and sat-navs - and get the battery tested, especially if it is over three years old."
Met Office forecasts warn that drivers face numerous wintry hazards, including gale force winds, particularly early on Thursday and during the latter half of Wednesday.
MeteoGroup forecaster Billy Payne says high ground on northern parts could experience temperatures of minus 5C.
But drivers should not face conditions as bad as the recent US blizzards, Mr Payne added.
Copyright Press Association 2015