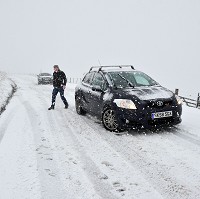 Travel disruption is feared as the first real spate of winter weather prepares to strike the UK.
The Met Office has issued a yellow warning for snow and ice overnight, with wintry showers predicted to fall in Scotland in particular during the "first notable north-westerly blast of the year".
Drivers have also been advised to stay away from part of the main route into the Highands due to the icy conditions, with forecaster Calum MacColl urging people to take extra precautions for cold weather and carry out the proper planning for their journey.
Central and eastern areas are expected to bear the brunt of the Arctic battering, with wet and windy weather set to spread south-eastwards through the country.
RAC spokesman Simon Williams said: "Colder, more wintry weather coincides with an increase in call outs for us so it's worth drivers taking some simple steps to avoid an unfortunate breakdown . Coolant, antifreeze and oil levels should all be checked, as should the state of tyres and quantity and concentration of screen wash. Starting problems are exacerbated in cold weather, and this might signal a faulty battery so this is also something worth thinking about.
"When planning your journey make sure you have some essential supplies with you - food and a hot drink for you and your passengers, as well as spare blankets, a torch, shovel for snow and of course a charged-up mobile phone. That way you can stay safe and be confident you're ready whatever the weather."
Wednesday and Thursday should see further weather warnings put in place, with winds of up to 70mph expected to hit North Wales, Northern England, Scotland and Northern Ireland.
Hail, thunder and some snow should strike hilly areas in the north and west of the country, with strong winds causing further problems.
Copyright Press Association 2014