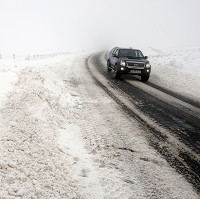 Drivers face more treacherous conditions with several inches of snow expected to fall in parts of the UK.
Wednesday night could see temperatures as low as minus 10C, with a yellow warning issued by the Met Office for large swathes of England.
The North West all the way to East Anglia has been warned of disruption on the roads, while health chiefs have called for people to take more care in the bad weather.
Eastern England and the Midlands will be hit by snow, while parts of Wales, Scotland and Northern Ireland will also see poor weather conditions that could increase the likelihood of breakdowns on the road.
A Met Office forecaster said that much colder conditions are expected, with strong winds worsening the cold. Snow showers are likely, but the North's hillier areas will see the worst of it.
Meanwhile, MeteoGroup's Billy Payne said that a sharp drop will be seen in temperatures, but conditions are unlikely to match the blizzard conditions seen in the north-eastern coast of the United States.
Copyright Press Association 2015