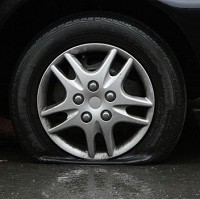 The Institute of Advanced Motorists (IAM) has offered advice to drivers on how to stay safe by keeping their tyres in good condition.
There were 3,852 tyre-related incidents on England's motorways from April to June, an average of 1,284 a month.
Drivers have been told they can monitor the condition of their tyres by taking note of how their vehicle is performing.
Having the right tyres will improve grip, handling and fuel economy.
The IAM has urged motorists to check their tyre pressures often. Low tyre pressure can waste fuel and leave them vulnerable to damage.
They should also look for any wear and tear.
The road safety charity said monitoring a tyres' tread is essential for safety.
The legal minimum is 1.6mm but the IAM has recommended changing tyres if tread is below 3mm.
IAM chief examiner Peter Rodger said regular tyre checks are the best way to keep on top of maintenance and avoid nasty surprises to the car and its owner's wallet.
"One day you could become one of the thousands unlucky enough to experience a tyre-related breakdown," he warned. "So having a dry-run of changing your tyre at home can prove very useful and will mean you needn't rely so heavily on breakdown services, getting you back on the road quicker."
Copyright Press Association 2013