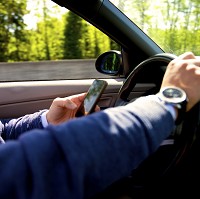 Apple Watch wearers of the future are being reminded that using the device while driving will carry the same penalty as operating a mobile phone.
With features such as internet, apps and message updates, t he Institute of Advanced Motorists (IAM) warns that the next-new-thing device could "significantly impair driving performance".
The RAC meanwhile reminds drivers that there is "nothing fashionable" about a device which distracts drivers at the wheel.
The Government has confirmed that anyone found to be using a smartwatch while driving faces being handed three penalty points and a £100 fine; with a jail sentence possible if a user causes a fatal collision.
Certain functions of smartwatches - such as making and receiving calls, checking messages and monitoring daily health - all add up to being a major cause for distraction and road accidents.
The Apple Watch is different to road legal, hands-free pieces of equipment and will require drivers to use two hands to operate the device, all of which will have a knock-on effect on speed, lane position and road awareness.
Pete Williams, RAC head of external affairs, says: "There is a genuine concern here as driver distraction is a significant cause of accidents on the nation's roads. In fact the latest Department for Transport figures show between 2010 and 2012 distraction was a contributing factor in 56,462 collisions.
"The RAC's Report on Motoring 2014 reflects this concern as a third, 34%, of motorists we spoke to worry about other drivers being distracted by their mobile phones while behind the wheel.
"It may be that we are increasingly a nation of gadget lovers, many of which are beneficial to the motorist, but it has to be emphasised that anything causing even a momentary distraction for the driver is not a welcome addition.
"This is especially true of a watch because it would be so easy for the driver to take a quick look as it sits on their wrist, but then they may be drawn into reading a text or other content that takes their eyes off the road.
"While smart watches might be the next big fashion accessory, there is nothing fashionable about a device that distracts you when behind the wheel."
Neil Greig, IAM director of policy and research, says a smartwatch and smartphones are one of the same in terms of potential distraction to motorists, particularly if a user has to remove their hands from the wheel or divert their eyes from the road.
And Mr Greig warns: "The very device that distracted you also has the power to convict you".
Copyright Press Association 2014