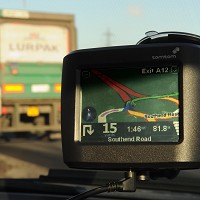 Motorists have been warned about the dangers of being distracted by the use of satellite navigation systems.
The Fuelcard Company has said that even professional drivers can lose their concentration and be at greater risk of an accident. Drivers were reminded to use common sense when following instructions and not to focus too much on the screen.
Jakes de Kock, the marketing director at the Fuelcard Company, said: "For every amusing anecdote or photograph of a car in a river because the driver followed the sat nav too resolutely, there's a story of someone being seriously injured or killed for the same reason."
Mr de Kock said that it was important not to obscure the driver's view of the windscreen with a sat nav device. The majority of devices can be dimmed at night when reflections or glare on the windscreen may distract motorists.
Drivers that choose to focus too closely on their sat nav instructions are less likely to identify potential obstructions quickly and react accordingly.
Copyright Press Association 2012