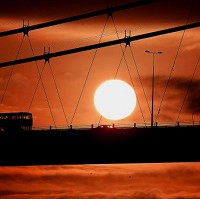 The Institute of Advanced Motorists has offered tips for driving when the sun dips in autumn, with chief examiner Peter Rodger encouraging motorists to always carry a good pair of sunglasses.
Drivers have been told to do "the obvious thing" and slow down if they cannot see, while monitoring the progress of the car behind. Turning headlights on can help improve visibility.
Rodger said even if the sun is behind a motorist, they need to be aware the driver heading towards them might be struggling to see. It can also dazzle through the car's mirrors, which means they should be dipped.
Motorists have been urged to ensure they have enough water and screen wash to tackle grime that is highlighted by low sun. Rodger recommended changing windscreen wipers every 12 months.
"Dirty windscreens make it even more difficult for drivers to see in the low sun we get every morning and late afternoon as winter draws closer. Your heater is often on the de-mist setting, blowing traffic fumes, suspended oil and smoke onto the inside of the screen which quickly builds up a film of grime which is a major cause of glare," he said.
"Clean your screen inside and out with glass cleaner at least once a week."
Copyright Press Association 2013