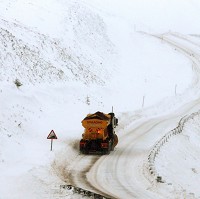 Drivers have been given advice on the risks recently-gritted roads might pose, as a wave of freezing weather heads for Britain.
Large swathes of the country are covered by Met Office warnings, meaning the gritters are sure to be out in force all over the UK.
While most motorists are aware of the risks an icy road might pose, highways treated with grit in preparation for cold weather carry their own dangers, the Institute of Advanced Motorists says.
Peter Rodger, its chief examiner, says people should follow the age-old advice often given by police when the weather is severe and simply avoid going out if they can.
But if someone must be on the road, he says extra caution is important as there could be ice patches they cannot see.
Mr Rodger said even roads that have been covered with salt can have untreated areas that are still slippery, so slow-going is essential to keep everyone safe.
It might seem obvious but he said drivers should not overtake snow ploughs and they should think carefully about going ahead of gritting lorries as the road ahead may be untreated.
Copyright Press Association 2015