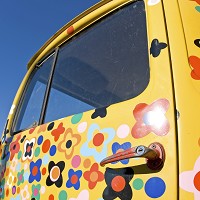 It may seem a good idea at the time for drivers to personalise their cars, but it could also seriously damage their re-sale value, according to experts.
Glass's Guide valuation specialists say vehicles which are too adapted to suit an individual's needs could even leave it difficult to sell at all.
People buying a car might not buy into the subjective character car that others have created, the valuation industry's "trade bible" said.
Glass's singled out the Citroen DS3 and Vauxhall Adam as two models which can typically depreciate in value with customisation.
Its experts said erroneous trim selections or colours can have a devastating effect. Glass's valuations head, Rupert Pontin, said this can render the same Vauxhall Adams being differently valued to the extent of three- or even four-figure sums.
Mr Pontin said that a vehicle's hue and other factors have traditionally had vast consequences on enduring values. But he says the increasing vogue for motorists to personalise their cars is accentuating the impact.
Cosmetically compromising vehicles with trim, wheel and colour combos which may have appealed to the original buyer are less attractive when they go under the hammer at auction, Mr Pontin added.
He even warned dealers to persuade eager buyers from taking incorrect choices at the booking stage.
Mr Pontin used as another example a mauve-coloured supermini complete with yellow-hued wing mirrors and white, 13-inch alloys plus a tartan-patterned roof. He said this would look more appealing to a teenager who has just thrown away his L-plates than a middle-aged male.
Such uncertainty can force valuers to play safe to reduce financial risks to their companies, Mr Pontin went on.
He said a likely answer may be to place the onus more on dealers to steer buyers away from the possible folly of their quest for individuality. They could nudge them towards cars that are more likely to re-sell on the pre-loved vehicle market, Mr Pontin continued.
Glass's said the ability to offer vehicles across the spectrum adds to the valuer's fun. But he said that occasionally dealer sales staff should surely realise their customers are generating a "dud" when hitting the booking button.
Copyright Press Association 2015