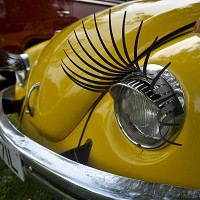 Almost three-quarters of motorists revealed their dislike for headlight eyelashes, fluffy dice and noisy exhausts in a recent survey by Carshop, making them the top three most hated car accessories in Britain.
Other disliked car accessories as voted for by 2,000 drivers include novelty horns, 'Powered by Fairy Dust' stickers and nodding dogs.
The used car retailer asked respondents to define a 'bad taste' car accessory or modification, with racer seatbelts, spoilers and steering wheel covers all making the top 10.
More than nine in 10 motorists claim they have never bought a vehicle with bad taste accessories, while two in five even said they would consider stopping a relationship in its tracks if someone turned up in such a car.
Only 42% of drivers thought car accessories would bring down the value of a car, something which is almost guaranteed, according to CarShop spokesman John Ruskin.
"Car depreciation can be heavily affected by accessories, yet people often kit out their vehicles without consideration on how this may affect the value when trying to sell," he said.
"Alloy wheels are the most popular bad taste accessory, with 30% of people's family and friends having modified alloys. However, inappropriate-sized alloy rims or wheels with low-profile tires can massively decrease the value of a car when trying to sell."
Copyright Press Association 2013