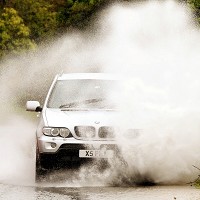 Drivers should be prepared for some unpredictable weather over the next few weeks, forecasters have warned.
Wednesday is forecast to be the hottest days of the year - but the mini-heatwave could be followed by heavy rain and thunderstorms.
According to MeteoGroup, the weather division of the Press Association, temperatures are likely to reach highs of around 30C (86F) on Wednesday.
But high humidity means many areas could see this followed by rain and bad weather. The varied conditions will no doubt prove a challenge for drivers, who will need to plan their journeys accordingly and ensure theirbreakdown cover is fully up to date.
The warm weather follows the coldest spring since 1962. According to the Met Office, mean temperatures in March, April and May reached just 6C (43F).
Brendan Jones, a senior forecaster at MeteoGroup, said the latest blast of warm weather from the Continent meant temperatures would soar across England and Wales. The South East is likely to enjoy the highest temperatures.
Copyright Press Association 2013