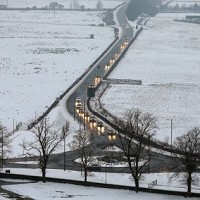 Drivers should brace themselves for a belated taste of winter on the UK's roads, weather forecasters are warning.
They are facing ice, slippery roads, sleet and other conditions which could lead to vehicle breakdowns .
The worst of the weather should hit motorists in southern Britain hardest, with overnight snow and sub-zero temperatures likely.
This should make some areas of the country colder than Iceland and Ukraine on Tuesday (February 16).
RAC spokesman Rod Dennis said: "Although the winter has so far been characterised by wet rather than particularly cold weather, much of the UK is experiencing a short, sharp icy blast.
Many motorists will get caught out, so we are urging drivers to get prepared now.
"When the temperature gauge drops our patrols often end up dealing with up to 25% more breakdowns than on an average winter's day, and if there's snow involved it can be even higher than that.
Problems often start at home - if a car is slow to start, it might be an indication it is time to get the battery starting and charging system checked.
It's also a good idea to check there is sufficient tread on all tyres, and that screenwash is topped up to the recommended level.
"Even a small amount of snow has the potential to cause real problems on the roads, so motorists are going to need to be on their guard.
In snowy conditions, it's always safest to accelerate and brake gently, shift up the highest gear possible, and leave a much larger gap between your car and the vehicle in front."
The weather warnings come in the wake of the UK experiencing its lowest temperature since 2012.
This was recorded in the Aberdeenshire village of Braemar, where the mercury plummeted to -14.1C.
Temperatures plunged to -7C across some countryside areas on Monday evening (February 15), with a severe frost causing icy roads.
There is expected to be no respite towards the middle of the week, with snow possible in eastern and central areas on Wednesday (February 16).
The Met Office's Lindsay Mears warns that drivers could face rain hazards as the week progresses.
She says that Tuesday could bring a maximum of 40mm rainfall across north-western Scotland.
Wednesday is likely to see further cold spells with patchy snow likely in eastern and central Britain.
Further cold air should take sleet, rain and gusty winds as far south as London with light snow again possible, she said.
This weather pattern should gradually clear over Thursday (February 17), Ms Mears added.
Wind chill factors should come into play on Tuesday then Wednesday, making it feel colder than it actually is.
Aberdeen was tipped to be colder than both Reykjavik (0C) in Iceland and Kiev (8C) in Ukraine at -1C on Monday.
Copyright Press Association 2016. Motoring News articles do not reflect the RAC's views unless clearly stated.