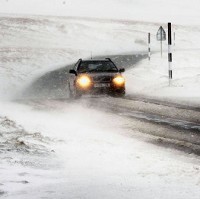 Motorists are being warned to expect the first wintry weather conditions of the season, with snow and gale-force winds making driving hazardous.
Met Office forecasters say a cold snap of snow, sleet and rain will hit large parts of the country this weekend.
They have urged motorists to be prepare for "difficult" road conditions as well as possible delays.
Drivers heading to the hillier parts of northern and eastern Scotland today are likely to bear the initial brunt of the snows.
As much as 4cm of snow are expected to fall on lower ground as the cold weather band moves southwards by the evening.
Icy gusts reaching between 60 and 70mph should make swathes of the Midlands and southern Britain far colder on Friday night.
RAC spokesman Simon Williams said: "While we've enjoyed an unusually mild autumn so far, this weekend is about to see us snap back to something much more seasonal.
"The cold weather will really take its toll on cars that have seen little love over the summer and autumn months. To avoid the chances of a chilly breakdown at the side of the road, drivers should give their vehicles a little TLC.
"Top up screenwash and antifreeze before setting out, and start the car a couple of times over the weekend to check there is enough charge in the battery - don't leave this until Monday morning; if you do, you might be starting the new working week broken down at home. When out on the road, be prepared for the weather to change suddenly and adjust your speed and driving style to suit the conditions."
Experts predict that wintry showers should affect several northern parts, while frosts will grow more commonplace after the sun goes down.
Friday's blustery showers will be followed by even worse weather on Saturday November 21, according to the MeteoGroup's Chris Hogan.
Hogan expects the mercury to approach zero on thermometers throughout the UK early in the morning, especially in eastern parts. Temperatures are expected to plummet by as much as five degrees.
Motoring News articles do not reflect the RAC's views unless clearly stated.
Copyright Press Association 2015