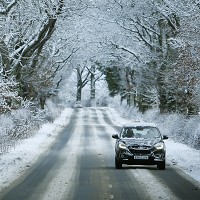 Motorists in many parts of Britain are being warned to drive carefully through snow and ice.
Blizzards hit Scotland on Tuesday, forcing many schools to close and weather forecasters expect more snow to fall on Wednesday.
Central and southern Scotland, Wales, Northern Ireland and many parts of England are all currently under a Met Office amber alert, which urges people to be prepared for bad weather.
Gritters took to the roads in much of the country overnight and commuters were warned to expect some disruption to services. Four Network Rail train routes have already been suspended.
More than 30 schools in the Highlands of Scotland were closed on Tuesday as the cold snap made road conditions difficult.
A car slid off the road and crashed into the wall of a property in a crash involving six vehicles in Dundee, and a jackknifed lorry caused problems on the A9 close to Carrbridge.
RAC spokesperson Simon Williams said: "The current 'see-saw' weather that the UK is experiencing - mild, wet and windy one day, cold with snow and ice the next - is a challenging mix for drivers.
"Motorists should stay abreast of the weather forecast to take the unpredictability out of their journey, and ensure they and their vehicle are well prepared for winter weather. This means checking things like coolant levels, wiper blades and the condition of tyres, and taking extra care while driving."
Copyright Press Association 2015