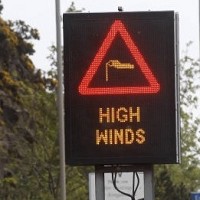 Drivers are being warned to exercise extreme care as Storm Barney makes its way from Ireland to Scotland.
Hurricane-style winds have hit offshore landmarks such as lighthouses and weather buoys across Ireland's south coast.
Inland, broken tree branches and debris have already brought challenging conditions to roads, especially on the motorways.
Dawson Street in Dublin has been shut due to falling scaffolding. The city's Ballybrack suburb reports a huge tree has also fallen.
The RAC says there are measures drivers can take to minimise their chances of wind-related accidents. These include gripping the wheel tightly, planning sheltered routes, being aware of overtaking high-sided vehicles and driving slowly.
Meanwhile, safety factors caused the visitor centre at the Cliffs of Moher to close.
Met Eireann predicts gusts of between 68mph and 80mph, particularly over Leinster and Munster.
Ireland's Road Safety Authority (RSA) has urged motorists to be prepared for nasty surprises. It says motorbikers and high-sided vehicles could be especially susceptible to high crosswinds which make steering difficult.
Wind speeds of over 90mph have already been seen at Fastnet Lighthouse in Ireland's most southerly point.
Cork Airport cancelled a handful of flights as gusts reached around 77.6mph. The storm also caused 45,000 households to be without power.
Irish meteorologists have maintained an orange status alert during the storm. This means that drivers and people living in affected areas should be prepared.
The storm is now heading north-west in the direction of Scotland.
Motoring News articles do not reflect the RAC's views unless clearly stated.
Copyright Press Association 2015