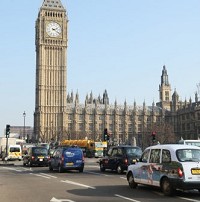 Motorists are being reminded to take extra care after the clocks moved forward an hour over the Easter weekend.
In his latest set of driving tips for road safety charity the Institute of Advanced Motorists, advanced driving expert Peter Rodger pointed out that with mornings now a touch darker it is worth checking all lights and giving them a clean.
Other snippets of spring driving advice from Mr Rodger include leaving plenty of time to brake and keeping the screen wash topped up at all times.
These two are important, he says, because April is well known for its spring showers and the rain can significantly affect driving conditions.
As motorists take to the country roads for days out, they are advised to keep a careful eye out for cyclists, pedestrians, motorcyclists and horse riders.
Mr Rodgers offers his regular driving tips to improve safety on the roads, which in turn could minimise the risk of a car insurance claim.
He says that all kinds of road users "from bikers to pheasants" can be out and about in spring, adding: "Preparing yourself to expect them and being on the lookout for vulnerable road users will ensure a more enjoyable drive and a safer environment for everyone."
Copyright Press Association 2013