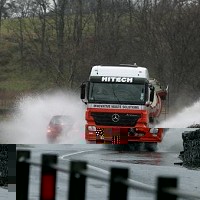 With rain signalling an end to the recent hot spell, motorists are being advised to take care when driving due to the possible risk of flooding on roads.
Torrential rains predicted for the coming days means poor driving visibility, difficult car control, slippery road surfaces and increased stopping distances, the Institute of Advanced Motorists (IAM) has warned.
Peter Rodger, IAM chief examiner said: "A suddenly very wet road surface increases the chances of slipping when braking or steering, which is a problem not just for motorists, but cyclists and motorcyclists too."
Drivers are advised to reconsider making a trip if severe flooding has been reported. However, if the journey is unavoidable and deep water is on the roads, motorists should follow a number of precautions: always drive in the highest section of the road; leave time and space for vehicles to pass to avoid swamping other road users; and drive slowly while keeping up the revs high.
The IAM also warned motorists not to decrease pressure on the accelerator when driving through high water as this risks water travelling up the exhaust pipe and flooding the engine.
Copyright © Press Association 2009