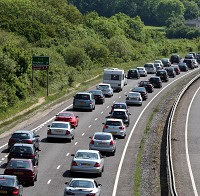 Drivers have been urged to take extra care on roads when the clocks change on October 25, as statistics show that car insurance claims rise by 11% on average following daylight saving.
Comparison of the two weeks prior to the clock change and the two weeks after over the last three winters, has shown that claims go up with the end of British Summer Time.
Zurich Connect, which carried out the research, said: "Daylight saving has become a dark week on Britain's roads as accidents shoot up.
"It's possible that drivers get used to driving their regular routes in broad daylight, then find it hard to adjust to suddenly doing the same journey at the same time, but in the dark.
"Couple this with the fact that autumnal weather is often wet and windy, and the risk of having an accident on the road is significantly increased."
Copyright © Press Association 2009