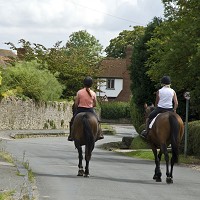 Almost all drivers want horse riders to clean up after their four-legged friends on the road.
As many as 97% believe they should pick up and bag manure, according to research by waste management firm Business Waste - while 89% think they should be fined for failing to do so, much like dog owners.
Horse riders currently have no obligation to clear up the foul left behind by their animal. But the study highlights the safety risk that manure presents to road users, particularly those riding bicycles and motorbikes.
There are also a number of clear health risks as it contains unhealthy bacteria such as E. Coli, Listeria and Salmonella - all of which have the potential to cause serious illness among members of the public.
Dog owners who fail to clean up after their dog can be given an on-the-spot fine - ranging from £50 to £80, depending on the council area - and drivers want horse riders to face the same sort of punishment.
Copyright Press Association 2014