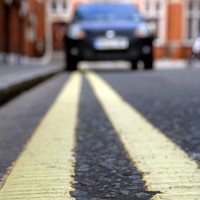 Most drivers are willing to walk so they do not have to pay parking charges, a survey has revealed.
Motorists are prepared to walk up to half a mile on average to avoid parking charges, according to market research company Viewsbank.
The poll of 2,053 drivers found that a fifth are prepared to walk a mile or more rather than pay up. And just 11% of respondents said they would rather pay than walk.
Viewsbank spokesman David Black said people are "literally voting with their feet" and using theirjourney planner to avoid paying a parking fee.
There clearly is a problem with parking, with many people struggling to find a space near their home, he said.
There is a balance to be struck between cutting traffic congestion and costs for motorists - but many feel the balance is tilted too far against drivers, he added.
Motorists named parking fees at hospitals as their biggest bugbear. An astonishing 86% said they felt aggrieved at having to pay them.
This compares with 47% who resent paying to park their car at railway stations and 37% who are unhappy at airport parking charges.
RAC head of external affairs Pete Williams said: "Exorbitant parking fees particularly in hospitals, are adding to the burden of cost that the motorist has to shoulder in 2013 so it is not surprising that people are prepared to walk up to a mile to avoid having to pay.
"An increasing issue for motorists is the social impact of the cost of owning a car as our Report on Motoring 2013 highlights that more than half, 54 per cent, say they could lead a more fulfilling social life if fuel was cheaper for example. And the cost of parking is undoubtedly having a similarly prohibitive effect.
"The reality is that motorists are stuck between a rock and a hard place as on the one hand they are being squeezed financially by things like fuel and parking charges, but on the other they feel public transport doesn't meet their travel needs."
Some 76% said parking charges deter them from shopping in their local town centre. While 80% said free parking would help to lure them to back from out-of-town shopping malls.
While 49% said their car had been damaged in a public car park, only 11% received a note from the perpetrator giving contact details.
Copyright Press Association 2013