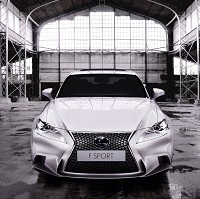 Happy UK motorists have helped Lexus land top spot in a prestigious annual manufacturers' chart.
After finishing second in each of the last four years, the Japanese manufacturer has finally come out on top in the Auto Express Driver Power survey of over 45,000 British motorists.
Motorists placed Lexus first in three out of the 10 categories and second in a further two.
Auto Express editor-in-chief Steve Fowler said: "More than anything, Lexus customers praised their cars' premium qualities - they're expertly put together, packed with gadgets and a pleasure to drive."
Lexus division director Richard Balshaw said the firm is "delighted" with the award, adding that it had delivered on its promise to improve customer experience and create cars with "luxury, style, reliability and a great driving experience".
Although reliability has been highlighted, Lexus owners - like motorists choosing other makes - are still advised to invest in breakdown cover to guard against unforeseen incidents.
Mr Balshaw said the Lexus range is set to expand further this summer with the launch of the new IS sports saloon, which will offer drivers the option of full hybrid power.
Copyright Press Association 2013