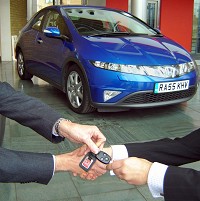 Research shows a majority of motorists are using forecourt finance to buy a car.
Figures from the Finance and Leasing Association (FLA) show 52.9% of new car sales were made using finance from dealers in the last year, 3% higher than the same time last year.
Data collected in May also reveals there was the smallest drop in the number of new cars bought by consumers on dealer finance since September 2008, but volumes for this market were 18% lower than in May 2008.
Geraldine Kilkelly, head of research and chief economist at the FLA, said: "It is encouraging that May's data showed the smallest drop for eight months. This reflects the great finance deals currently on offer to help consumers buy a new or used car.
"But if dealers are to continue to offer competitive finance to customers on the forecourt, motor finance companies need to be able to access affordable wholesale funding."
She added the Government needs to looks at ways of providing access to reasonably priced funding to boost car sales and help support the beleaguered car industry.
Copyright © Press Association 2009