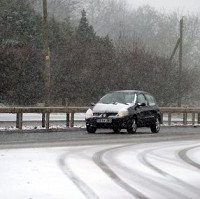 Motorists are being encouraged to take note of Met Office figures which highlight the importance of fitting cold weather tyres.
Temperatures fell below 7C, when winter tyres are most effective, during rush hour in Britain on 173 days in the six months between the start of October 2012 and the end of March 2013.
The research covered 10 major cities in Britain and measured temperatures from 7am to 9am and 4pm to 6pm. Newcastle recorded the highest number of days when temperatures dipped below 7C, with 162, while London had the fewest with 120.
ATS Euromaster said cold weather tyres offer improved grip, handling, cornering and reduced braking distances when the temperature falls below 7C.
Peter Fairlie, at ATS Euromaster, said Britain was recently hit with one of the coldest winters in recent times, with driving conditions treacherous for many motorists, heightening the need for breakdown cover .
"The UK only experienced nine days out of the whole six-month period where cold weather tyres wouldn't have made driving safer in at least one of the 10 major cities we studied," he said.
Copyright Press Association 2013