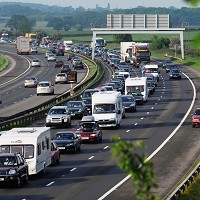 As schools around the country break up for the summer, million of families will be getting in cars to head for ports, airports and British holiday destinations.
The hot weather has seen a 10% increase in traffic and drivers are being urged to carefully plan their route to avoid bottlenecks and tailbacks.
The Highways Agency suggests making journeys outside peak travel times if possible, and making lots of breaks on the journey. Drivers must also ensure that the car, and the passengers, are also well prepared.
One way drivers can get a head start is by using ajourney planner to map out the best routes and to find alternatives in case they hit traffic jams or diversions.
Roads Minister Stephen Hammond said: "No one wants a bad start to their summer holiday, so by planning ahead unnecessary delays can be avoided. Just a few minutes checking the weather and traffic conditions before you leave can take a lot of hassle out of any journey."
Fridays in July and August are expected to be very busy all over the UK, with Saturday lunchtimes also set to be peak travelling times. Traffic on key holiday getaway routes - such as the M5 from the Midlands and the M3/A303 from London to the West Country; the M6 through Lancashire to the coast and Lake District; routes from London to the south coast; and motorways heading for the Channel ports and tunnel -is also set to be very busy.
Copyright Press Association 2013