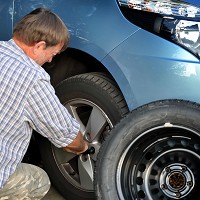 Motorists are being urged to fit winter tyres to help them stay safe on the road this Christmas.
Tyre safety organisation TyreSafe said winter tyres should ideally be fitted from October until spring - when it rarely gets warmer than seven degrees Celsius - as they provide more grip than normal tyres when it is cold or damp.
They can also help motorists stay in control of their vehicles in extreme driving conditions such as black ice and snow, when temperatures are well below zero degrees.
Stuart Jackson, chairman of TyreSafe, said the UK may have seen one of the warmest autumns ever recorded, but cold and wet conditions are now "most definitely here", leading to more dangerous situations for drivers.
He added that motorists who have winter tyres fitted will have better grip and safety all throughout the winter season, regardless of whether it snows or not.
Copyright Press Association 2014