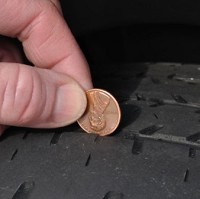 The risk of suffering a tyre-related mishap on the roads can be drastically reduced if drivers take a few simple steps before setting off.
Reaching your destination safely will be more likely if motorists quickly check their tyres before getting behind the wheel.
Having the correct air pressure is a must if you wish to avoid the need to claim on yourbreakdown insurance .
If motorists are carrying extra passengers or luggage, especially during the fast-approaching May bank holiday weekend, tyres should be inflated more because of the increased weight of the vehicle.
Tread depth needs to be at least 1.6mm across the middle three-quarters of the tyre and around the whole circumference.
This is dictated by UK law and drivers failing to adhere could find themselves with a fine of as much as £2,500 and three penalty points for each inadequate tyre.
Stuart Jackson, chairman of safety organisation TyreSafe, said: "Tyres that aren't checked regularly or before any long journeys could be potentially hazardous, endangering the safety of the driver, passengers and other road users."
Copyright © Press Association 2013