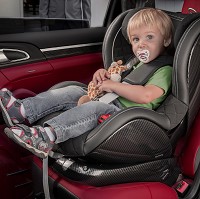 Parents are being urged to ensure their child seats are safe before setting off on a car trip.
Good Egg Safety and Britax have released a 12-point guide to help the whole family arrive safely at their destination.
Tips include setting the car seat to a semi-reclined instead of an upright position, so that parents do not have to worry about their children's safety when youngsters fall asleep.
The firms are also calling on parents to be extra careful when they have children in the car as they can easily cause them to take their eyes off the road.
Mark Bennett, safety expert at Britax, said Christmas is an exciting time for families, but parents should remember to carry out some simple car safety checks before taking their family for a ride.
Jan James, chief executive at Good Egg Safety, said child car seat safety is "especially important" in the winter, when driving can be more dangerous and the chances of having an accident are higher.
Copyright Press Association 2014