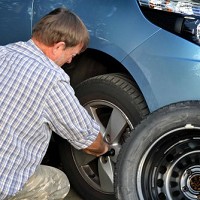 Tyre checks should be just as much a part of the Easter holiday as chocolate eggs, a safety group has suggested.
TyreSafe said that this practice can greatly enhance motorists' chances of arriving at their Easter destination safely during the busy holiday weekend.
The not-for-profit group said the spare wheel should be among such checks.
Failure to do so could leave drivers at risk of calling on their breakdown cover provider or even suffering an accident.
Most modern motors do not come with a full-scale spare wheel, according to a new poll.
It found that just 8% of newly manufactured vehicles have one of these, as opposed to run-flat tyres, repair kits and "space-saver" alternatives.
The group said that the most effective way of checking tyres is to inspect them for damage or bulges, as well as ensuring that their tread depths are a minimum of 1.6mm - which is the UK's legal limit.
Copyright Press Association 2015