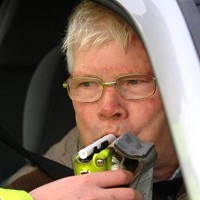 British motorists have been urged to carry a breathalyser with them if they plan on enjoying a festive tipple over the Christmas and New Year period.
Figures from the Association of Chief Police Officers (ACPO) showed that 7,124 drink-drivers were arrested over the Christmas and New Year crackdown period last year.
The ACPO statistics also showed there were 9,900 drink drive-related casualties, 1,570 serious injuries and 280 deaths throughout last year.
Halfords said the best the advice they could give motorists would be to not drink and drive at all, but recommended buying a breathalyser for those who are tempted to get behind the wheel after a boozy session the night before.
David Hammond, Halfords product manager, said: "Any amount of alcohol affects your ability to drive, so our advice is not to drink at all.
"However, recognising that some people may innocently get behind the wheel the morning after an office Christmas party or family gathering believing they are fine, we would strongly urge drivers to carry a breathalyser that can be used to check, as a precaution."
The legal drink drive limit in the UK stands at 80 milligrams of alcohol per 100 millilitres of blood, with penalties for those found to be over the limit including a £5,000 fine, a minimum 12-month driving ban and a criminal record.
Copyright Press Association 2012