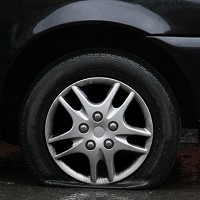 Almost three-quarters of British motorists are oblivious about the new EU tyre labelling regulations due to take effect from November 1, a study has revealed.
Rubber producer Lanxess surveyed 3,000 drivers and discovered that 70% were unaware about the impending tyre regulations, while a staggering 99% had no idea about the impact of tyres on fuel bills.
Neglecting tyre safety can often result in motorists having to claim on theircar insurance , so Lanxess has launched a free app demonstrating the changes that could save up to £200 per year on fuel bills.
Tyre and fast fit specialisation HiQ has welcomed the imminent EU legislation by unveiling a new 'Tyre Labelling World' section on its website, where motorists can download items such as 'The anatomy of a tyre label', 'HiQ handy guide to Tyre Labelling' and 'Winter tyres and Tyre Labelling'.
Geraldine McGovern, HiQ create demand manager, said: "With the legislation just 50 days away, we want to be seen as industry leaders on this topic and the first port of call for any motorist wishing to understand more."
Copyright Press Association 2012