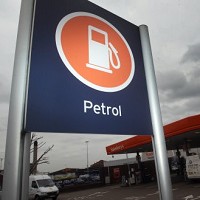 Drivers are being offered 5p off their shopping bills for each litre of petrol or diesel they fill up with at a Sainsbury's forecourt next month.
October's deal means that motorists using the supermarket's petrol stations can claim 10 Nectar points per litre.
Sainsbury's has been among the frontrunners in the recent forecourt fuel "price war" with Asda, Morrisons and Tesco also lowering prices.
But Wednesday's announcement adds a new spin on the inter-supermarket rivalry to lure customers to their pumps.
The amount of visits drivers can make to Sainsbury's forecourts are unrestricted, but they only have until October 31 to take advantage of the deal.
The supermarket giant is focusing the campaign on customers topping up their Nectar points with Christmas fast approaching. Sainsbury's customers traditionally redeem their Nectar points more regularly during the festive season than at any other time.
Its shoppers spent Nectar points amounting to £107.3 million in the last two months of 2014 alone.
Avishai Moor, Sainsbury's fuel head, hailed the new promotion as among the company's biggest-ever points giveaways.
Copyright Press Association 2015