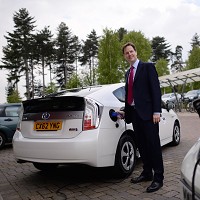 More than two-thirds of drivers in Britain have no interest at all in buying an electric car, new research suggests.
According to the Institute of Advanced Motorists (IAM), 69% of motorists would not have an electric vehicle, with two-fifths put off by the need to recharge them.
The IAM adds that 39% of drivers are concerned by the distances they are capable of travelling on a full battery and the prospect of suffering a breakdown when they run out of juice.
A third simply think they are too expensive to buy.
Current take-up of the technology is just 1% of all drivers in the UK, while 5% are thinking of purchasing one.
Around 18% have thought about but decided against it.
Despite these findings, 37% of those polled said they could be tempted into buying an electric car if it made motoring cheaper for them, with the most important cost proving the initial outlay.
It seems British drivers are yet to be convinced that electric vehicles are the future of motoring. Their range and perceived shortage of charging points are putting many people off, IAM chief executive Simon Best said.
He said the Government could improve the nation's opinion of electric cars by boosting the network of charge points and prolonging the £5,000 subsidy scheme.
Copyright Press Association 2014