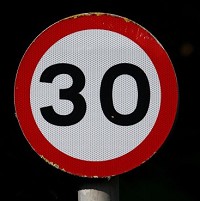 A survey by Brake shows that while almost two-thirds of drivers believe speeding puts children in danger on local roads, around the same number confess to going faster than 35mph in 30mph zones.
Of the 1,000 motorists polled by the road safety charity, 64% think the safety of children on foot and on bikes on some or all local roads is compromised by fast traffic, while 65% called for safer walking and cycling routes.
Two in three said they feel pressure from the driver behind to speed up in built-up areas, with a third admitting to succumbing to this pressure.
Brake has revealed five under-16s are killed or hurt badly each day while walking or cycling.
Brake deputy chief executive Julie Townsend wants motorists to take ultimate responsibility for protecting children on foot and bike.
"Our research shows there's a contradiction in what some drivers say they want and the way they behave at the wheel," he said.
"As well as campaigning for government and local authorities to do more to reduce speeds in communities to tackle pedestrian and cyclist casualties and create nicer places to live, we're appealing to drivers everywhere to do their bit, too."
Copyright Press Association 2013