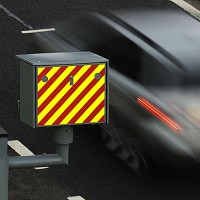 Motorists have criticised an unusually active speed camera which is thought to have pulled in around £800,000 in just half a year.
The device in Cardiff snapped 13,624 drivers exceeding the speed limit from January to June this year, road safety organisation GoSafe Wales says.
An additional 146 motorists were caught driving through red lights by the camera during this time.
The camera, which is located on the junction of Newport Road and Colchester Avenue in Cardiff, is on course to overtake one on the M60 near Stockport, which caught more than 32,000 drivers over a three-year period, according to Freedom of Information figures.
If the Cardiff machine continues at its current rate it will have caught more than 82,000 by 2017.
The camera has drawn criticism from drivers' group the Institute of Advanced Motorists (IAM), which says the high figures show it is not doing its job properly.
The group says that the aim of speed cameras is to slow vehicles down - an effect it is failing to have due to the high number of tickets it is issuing.
It adds that the local authority should be looking at the conditions on and around the highway and taking steps to ensure it looks like a 30mph road; that the cameras can be clearly seen by drivers and that signs are not hidden by vegetation.
Nearly 6,000 of the 13,624 motorists caught by the camera took a speed awareness course which costs around £85 per place, according to GoSafe Wales, and more than 3,000 chose instead to pay a speeding fine of £100.
Based on this data it is thought the camera would have raked in around £808,410.
Copyright Press Association 2014