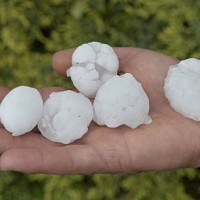 Motorists have been warned there will be no respite from Britain's spectacularly changeable weather, with extreme conditions again predicted.
Spiralling temperatures on Friday are again set to be followed by spectacular storms, Met Office's officials claim.
But drivers probably won't have to endure such high temperatures as Wednesday's record-breaking 36.7C (98.1F) reported at Heathrow. This was the hottest day ever recorded for July, while several other destinations were also in excess of 30C (86F).
RAC spokesman Simon Williams said: "Motorists will have to contend with very differing weather conditions today (Friday) so will need to adjust their driving according to whatever they encounter.
"We have had the hottest July day on record on Wednesday followed by a more normal Thursday and now the heat is due to make a return. Drivers should be aware that our patrols have seen a 71% rise in thermostat-related breakdowns and a 64% increase in cooling fan problems.
"The heat also seems to have led to more misfuels - where motorists accidently fill a petrol vehicle with diesel or vice versa - as there were more calls for help from members on Tuesday, Wednesday and Thursday. The message at the pump is: keep a cool head and take an extra moment to make sure you pick up the right nozzle.
"On Wednesday Clevedon-based patrol Ryan Guy recorded a road temperature reading of over 44C."
The mercury is likely to hit the late 20s for drivers heading for south Wales, central regions and southern England. Further north they should experience lower temperatures ranging between 18C and the low 20s.
Then a further night of heavy, even severe storms are predicted throughout several parts of Wales and England.
The Met Office's yellow warning has been put in place between 7pm and midday on Saturday, July 4. This severe weather alert advises people to "be aware". Localised flooding, regular lightning and huge hailstones are among the hazards possible, it said.
Massive hailstorms have already caused havoc in several areas of County Durham - where a lightning bolt reportedly destroyed a house roof - and the dales in Yorkshire, harming many cars.
One car insurance claimant said they had made his Jaguar look like a multi-dimpled "golf ball".
A North Yorkshire nursery owner suffered around 5,000 greenhouse glass panes smashed by the huge hailstones.
From midnight on Wednesday to 10am on Thursday there were a reported 15,273 lightning strikes in Scotland, according to Met Office officials. A further 4,252 were recorded elsewhere in the UK.
Over 50,000 householders in North-East England have so far had their power supplies cut during the erratic weather.
Copyright Press Association 2015