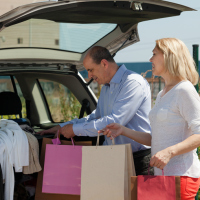 Motorists will take to the nation's roads in their millions this weekend, making it the busiest spring bank holiday for three years, the RAC is predicting.
The motoring organisation, which is advising drivers to try and avoid peak times, expects around 15.3 million cars to use major roads for leisure journeys between Friday and Monday.
That's over a million more than last year's 14 million, with RAC Traffic Watch figures predicting traffic volumes will peak on Saturday.
Some 4.5 million leisure journeys are expected to be made on Saturday with 3.9 million forecast for Friday, the day many children break up for half-term.
Sunday and Monday, meanwhile, are set to see 3.6 million and 3.3 million journeys respectively.
Peak times for traffic are expected to be 4-9pm on Friday, between 11am and 4pm on Saturday and Sunday, and 1-6pm on Monday.
Those planning a getaway should have a bit more money left over after filling up their cars than they have in recent years, the RAC says.
A full tank of petrol for a Ford Focus, it says, should typically cost around £60, compared to £64 last year and £71.50 in May 2014.
The RAC's traffic spokesman, Rod Dennis, says forecasts of "reasonably settled" weather also seem to be fuelling people's plans to hit the road.
But he says there is advice motorists can follow to make their plans run as smoothly as possible.
Mr Dennis adds: "We recommend drivers plan their trips carefully and try to avoid the busiest times if at all possible - Friday evening is likely to be especially hectic on major routes, as is Saturday from late morning to mid-afternoon.
"As well as packing the car, make sure it is prepared well too. It can really pay to do some simple checks on your car before you set out, especially if you are planning on covering any great distance. So check oil, coolant and washer fluid levels and ensure all tyres have plenty of tread, something that is especially important if you're planning on towing a trailer or caravan."
Further driving advice is available via rac.co.uk/drive.
Copyright Press Association 2016. Motoring News articles do not reflect the RAC's views unless clearly stated.