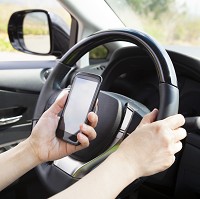 People are being urged to refrain from using their mobile phones behind the wheel after several motorists were recently spotted photographing the aftermath of a collision.
A total of 12 drivers were seen allegedly filming or taking pictures with their phones after a caravan collided with the central reservation of the M5 southbound, close to Michaelwood services, on July 28.
An eagle-eyed officer for Gloucestershire Police noted the irresponsible behaviour as he stood at the scene.
Four of those involved will be sent letters of intended prosecution for driving without due care and attention or without consideration for other road users, while eight will be sent warning letters regarding their use of a mobile phone.
"Sadly this kind of behaviour happens far too frequently and is a danger to everyone else on the road," commented Pete Williams, head of external affairs at the RAC.
"It's something that needs to be totally eradicated and hopefully the police's high-profile action will help to get the message across to other motorists who might be tempted to do a similar thing.
"RAC research has disturbingly found that 75% of motorists regularly see other people using their mobile phones at the wheel. We need to make using a phone to text, talk or take photographs while driving as socially unacceptable as drink-driving."
Copyright Press Association 2014