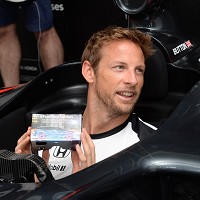 Motorists who've always fancied themselves as Grand Prix stars got a chance to put their skills to the test - against a former Formula One champion.
They raced at speeds touching 200mph on an absorbing virtually reality gaming challenge with 360-degree capability.
Standing in their way at London's Canary Wharf Plazza on Wednesday afternoon was 2009 F1 champion Jenson Button. The challenge was set in the run-up to the weekend's British Grand Prix at Silverstone.
In a simulated environment, players were invited to use their smartphones to better the lap times achieved by professionals like Button, Stoffel Vandoorne and Kevin Magnussen.
Magnussen is a 22-year-old Danish F1 driver who made his debut last year, while Vandoorne is a 23-year-old Belgian F1 star who also made his first outing in 2014.
Competitors got a virtual feel of what it is like to complete a Silverstone lap, while simultaneously being able to look all around them.
The Google Cardboard technology was showcased as part of of London's Race Week.
Button starred at the #FuelYourSenses event, which was staged by ExxonMobil - his McLaren-Honda's fuel tech partner for more than two decades.
Weather forecasters predict the current heatwave will abate in time for Sunday's Silverstone Grand Prix. Maximum temperatures of 20C (68F) are expected with showers likely.
Many home fans will be hoping for a win from current championship leader Lewis Hamilton. But he faces strong challenges from Mercedes stablemate Nico Rosberg and Ferrari's Sebastian Vettel and Kimi Raikkonen, who occupy the other top four positions.
Last year's race was won by Hamilton in his Mercedes, despite starting in sixth on the opening grid.
Additional entertainment comes this year courtesy of the Red Arrows, Typhoon Evolution and RAF Falcons flying displays as well as a concert from Madness on Thursday (July 2).
A giant Scalextric game, electricity-powered F1 go-karts, pitstop challenge and cinema are also planned.
Copyright Press Association 2015