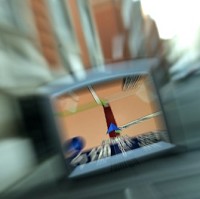 More drivers now prefer sat navs to maps as their favourite tool for finding their way around.
As many as 52% of motorists used electronic sat navs as their first-choice journey planner last year - 4% more than in the previous year.
The Department for Transport's (DfT) National Travel Survey says this contrasts with the numbers for 2009 when only one in three drivers opted for sat navs.
And it seems that more and motorists look for built-in sat nav systems when buying a car . About 12% of drivers currently have them and 40% use portable versions.
But safety campaigners claim that sat navs can dangerously divert motorists' attention from traffic and signs on the road ahead.
A poll from Brake road safety charity revealed that around one in 14 motorists (7%) have experienced sat nav distractions that have resulted in near misses, leading them to brake or veer suddenly to avoid a crash.
January's survey found that sat nav directions distract about one in nine motorists aged 23 or below. This proportion dips to under 5% for motorists upwards of 35.
Brake claims that proof exists sat navs not only make drivers less observant, they also make them drive more quickly, rendering them a risk to themselves and other road users.
Gary Rae, Brake's campaigns manager, warns that sat navs do not exist to take every decision for a motorist. They are there primarily to help motorists concentrate their whole attention on the road, rather than fret about which way to go.
He urges drivers to stay vigilant for signs, especially ones which warn of speed limits or upcoming hazards, even if they do have a sat nav.
Mr Rae calls driving "unpredictable" and says that motorists should stay alert to watch for unforeseen problems as well as people.
The driving charity also reminds motorists to key in their destination prior to leaving on a trip rather than putting themselves at risk by fiddling with their sat-nav when motoring.
Copyright Press Association 2015