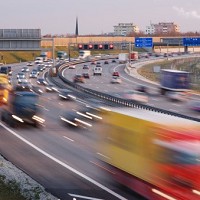 Drivers in Germany would rather take a longer detour than battle through heavy traffic to get to their destination, a new study shows.
Two out of three motorists said they would rather have a stress-free trip even if it meant adding more than three minutes to their journey time, according to the research carried out by the Fraunhofer Institute for Open Communication Systems (FOKUS) in conjunction with the Technische UniversitŠt Berlin.
Three out of four drivers in the survey of 120 motorists even said they would be willing to take a detour.
It's certainly an interesting finding, though whether UK drivers would be this happy to take to theirjourney planner and opt for a longer but easier route remains to be seen.
Meanwhile FOKUS researchers are developing new technologies that are designed to guide drivers around streets in order to even out traffic flows in a given area and generating more environmentally friendly traffic patterns.
By responding to alerts sent to their smartphone or satnav, drivers may for example be able to avoid traffic jams while using the minimum amount of exhaust emissions.
Copyright © Press Association 2013