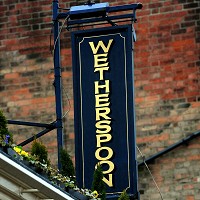 A new £1 million pub opens at a motorway service station on Monday, to the apparent concern of most UK motorists.
Pub chain JD Wetherspoon said its Hope And Champion will be open from 4am to 1am, seven days a week, in the Extra Motorway Service Area at junction 2 of the M40 in Beaconsfield, Buckinghamshire.
The pub will sell real ale from local and regional brewers as well as hot drinks.
Fresh research from the RAC, however, reveals just 12% of people support the decision to put pubs into motorway service stations.
Of the 2,000 people surveyed by the RAC, a resounding 64% do not agree with the move, with older drivers less accepting of the sale of alcohol at a motorway pub than their younger counterparts.
The research found that only 8% aged over 55 are in favour of pubs being opened at motorway services while 71% are against. In the 18-34 age range as many as 18% supported the move while 52% disagreed.
Nearly a quarter (24%) of all people questioned were undecided on the issue.
Pete Williams, head of external affairs at the RAC, says: "The public appear to be very much against the introduction of motorway pubs. We appreciate the vast majority of motorists drive responsibly and that alcohol is already available in shops at motorway services, but for many this decision seems to be at odds with common sense. In our view this is a risky and frankly unnecessary move.
"The question we are struggling to answer is: of all the places to open a pub, why choose a motorway service station?
"The temptation to drink and drive can only be increased by easier access to alcohol. We therefore urge JD Wetherspoon to do all they can to convey the anti-drink-driving message as strongly as possible at this particular pub."
Copyright Press Association 2014