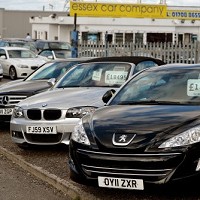 Second-hand car salesmen are sometimes viewed with suspicion by motorists, put off by tales of drivers being landed with a dodgy vehicle.
And that perception seems to be backed up by a new survey suggesting that more than one in three (39%) motorists would not use the same dealer again under any circumstances.
But the RAC, which conducted the survey, is now seeking to restore drivers' faith in used car dealers by launching its RAC BuySure scheme .
It is being rolled out across the country at the motoring organisation's network of approved dealers.
The scheme guarantees that the second-hand cars being sold meet an 82-point RAC standard, and have a three-month RAC warranty as well as at least three months' worth of breakdown cover .
The results of the RAC survey show that two fifths of those asked say they have experienced problems with a vehicle bought from a used car salesman, with 29% saying the dealer had failed to properly rectify the problem.
As a result, 30% say they have told other people to steer clear of the dealer they used.
But despite the experiences of some, the used car market seems to be thriving, with 56% of drivers saying they would buy a second-hand vehicle because new ones depreciate in value more quickly.
Mario Dolcezza, spokesman for RAC BuySure, says: "The used car dealer is still the first place many people look when they are in the market for a car and our survey suggests 65% of motorists go to a dealer in their area because they think they provide the best value. But this is not always the case as some dealers are clearly not living up to the expectations of their customers.
"Our research findings show that dealers need to be very conscious of the importance of having a good reputation and making sure they always deal well with any issues their customers might experience after buying a car from them, otherwise motorists will go elsewhere."
He adds: "We understand that for many motorists, buying a used car is a big financial commitment and there is real anxiety about unwittingly buying a 'lemon' and having no comeback after driving off the forecourt. Dealers really need to make sure they do everything they can to give buyers the utmost confidence in their cars as trust is key in the buying process.
"RAC BuySure helps give people confidence in their buying decisions so that there are no nasty surprises further down the road.
"From a dealer's perspective it also makes sense as those involved in our trial have seen their sales increase as a result of increased consumer confidence, which is clearly a win for both the dealer and the customer."
The Buying a Car section on the RAC's website - www.rac.co.uk - has more information about the RAC BuySure scheme.
Copyright Press Association 2015