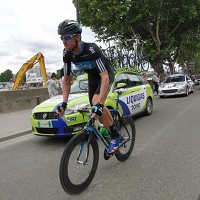 Cycle safety awareness has increased as a result of the Tour de France coming to the UK, new research suggests.
The iconic race will begin in Yorkshire this weekend and the publicity surrounding it seems to have rubbed off on drivers and cyclists alike.
A survey shows that 90% of drivers are now more aware of cyclists on the road because of Le Tour, while 73% of drivers are now more careful around cyclists when getting from A to B.
Some 10% of drivers are also toying with the idea of buying a bike thanks to the arrival of the Tour de France.
As many as 59%, however, admit they have been discourteous to a cyclist on at least one occasion in the last two years, the survey by ColinAppleyard.com found.
Police are therefore advising all drivers to be more considerate towards cyclists at all times, not just in the build-up to the event.
The first stage of the Tour de France starts on July 5th in Leeds, while the second begins the next day in York.
Riders on the tour will then head from Cambridge to London on July 7th before returning to the event's homeland in France.
Copyright Press Association 2014